WE CARE
People | Planet | Future
At s.Oliver, we care deeply about sustainability. Our motto reads: WE CARE. For PEOPLE, the PLANET and the FUTURE.
We are committed to people and nature and offer our customers responsibly produced fashion. We comply with social and ecological minimum standards for the production of all of our products. We also carry out strict controls of harmful substances and set clear guidelines for our suppliers regarding the protection of animal welfare.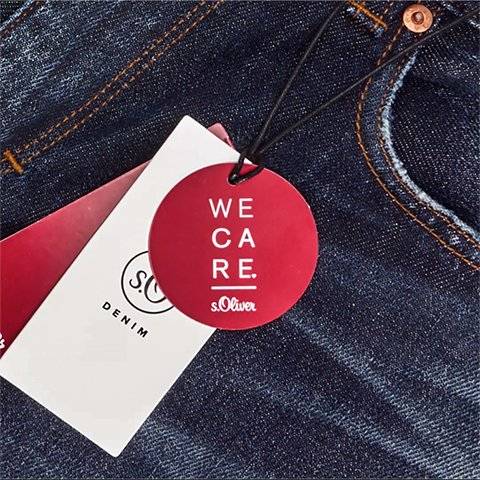 IMMEDIATELY RECOGNISE WHAT PRODUCTS ARE SUSTAINABLE
The WE CARE Label
will help you!
In our sustainable product strategy, we're placing increased focus on sourcing certified sustainable and recycled fibres as well as eco-friendly processing. Items that particularly support our sustainability efforts can be identified by a small label.
Certified sustainable fibres
Sustainably cultivated cotton and viscose from sustainable sources
Recycled fibres
Synthetic fibres made of recycled plastic (e.g. PET bottles) or cotton or wool made of recycled textile remains
Eco-friendly processing
Innovative, resource-saving technology in the production of jeans for up to 80 percent less water and chemical use depending on the product.
YOU'D LIKE TO KNOW WHAT MAKES YOUR WE CARE ITEM SUSTAINABLE?
Our selection criteria
for WE CARE: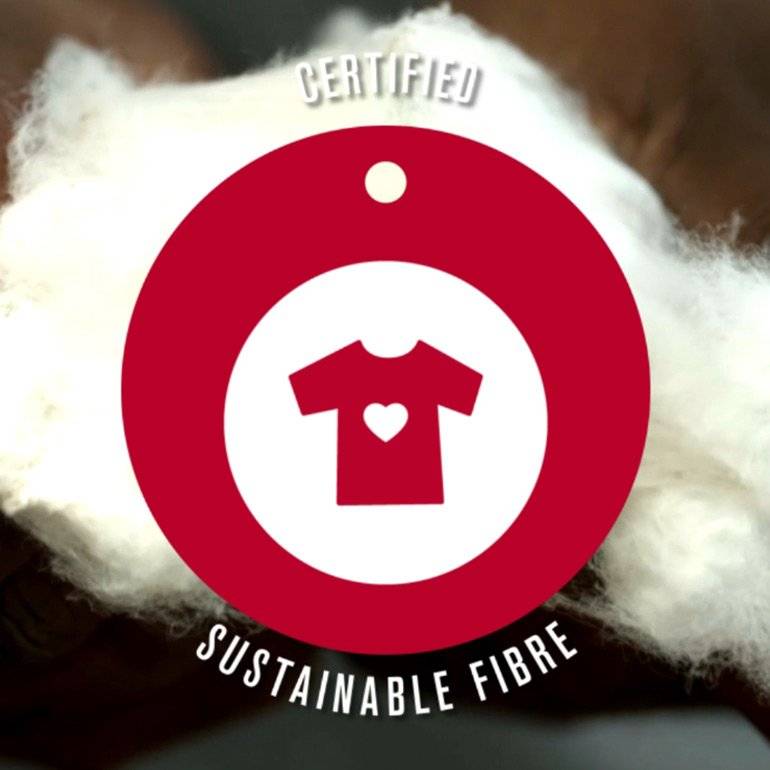 Cotton and viscose
Certified sustainable
fibres
A lot of our products carry the WE CARE label because of the efforts we make for the sourcing of certified sustainable fibres. This refers to natural fibres such as cotton and viscose.
The cotton cultivation process does not involve artificial irrigation and uses fewer pesticides than conventional cultivation methods. In addition, cotton farmers are aided by training and social projects. The cellulose pulp in sustainably certified viscose is sourced from sustainable FSC- or PEFC-certified forests. The further processing of the raw material into viscose yarn takes place in a closed production cycle that reuses the resources and thus protects the environment.
Cotton made in Africa
s.Oliver has been sourcing sustainable cotton from Africa since 2009 as part of the Cotton made in Africa (CmiA) initiative. In doing so, we help small African farmers help themselves and achieve a more stable income by buying fixed quantities of cotton. The initiative promotes training in sustainable cotton farming, is involved in special projects and contributes to the protection of the environment: there is no genetic engineering or artificial water irrigation during the farming process. Just one T-shirt saves more than 500 litres of water. In addition, up to 40% less greenhouse gasses are emitted per kilogram of cotton.
Better Cotton Initiative
Another important partner for our sustainable cotton sourcing is the Better Cotton Initiative (BCI). Growers that are licensed to sell Better Cotton to the supply chain must meet minimum social and ecological criteria and demonstrate continual improvement in this area. In the environmental sector, for example, Better Cotton is characterised by a reduction in the use of pesticides, improved water efficiency and a cultivation method that shows a vested interest in maintaining soil fertility and biodiversity.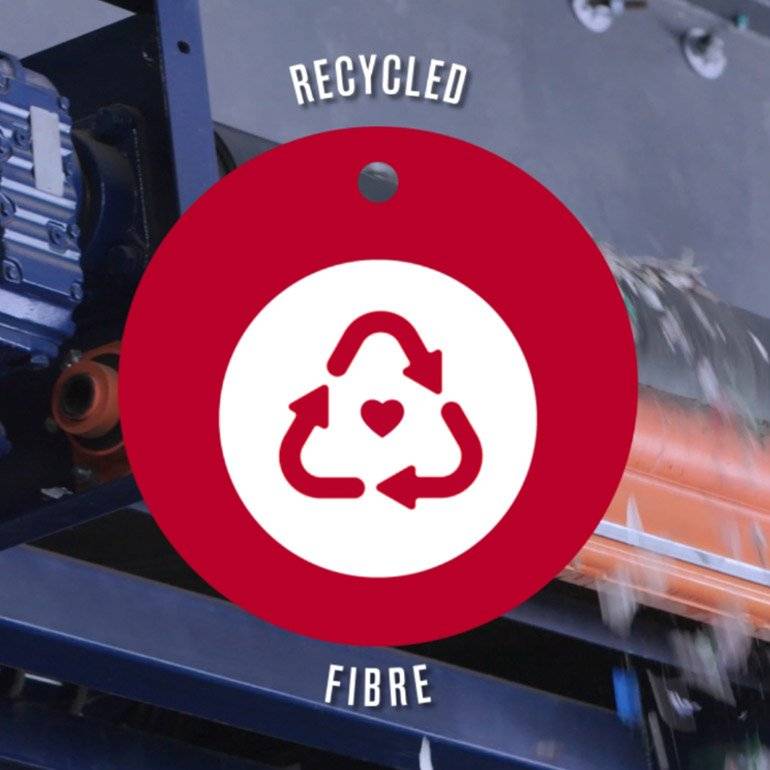 Bring new life to materials
Recycled
fibres
In order to contribute to the principle of circularity in textile production, we also increasingly use recycled fibre material in our products.
On the one hand, we use fibres made of recycled plastic such as PET bottles. Like the fibre REPREVE®, for example. On the other hand, there's also recycled fibres sourced from textile trimmings from textile manufacturing waste or from used clothing. For this purpose, fabric remnants or already worn clothing are first broken down into their original components, from which new raw materials and new yarns are produced in various process steps. All of the recycled fibres used in our products are certified according to the Global Recycled Standard (GRS) or the Recycled Claim Standard (RCS) and are therefore subject to strict audits during the production and distribution process.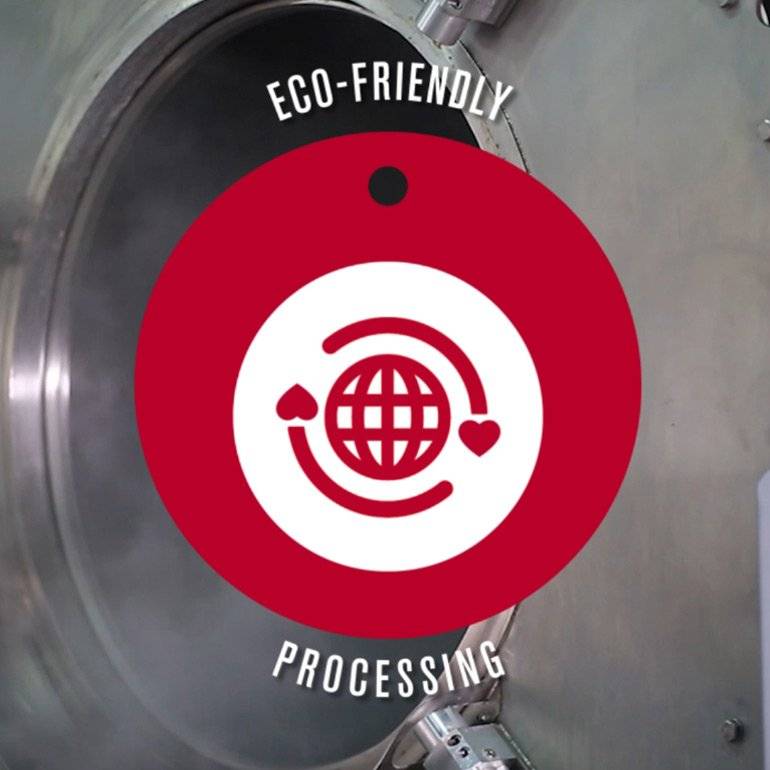 SUSTAINABLE DENIM!
Eco-friendly
processing
The dyeing and washing of denim in particular are water-, energy- and chemical-intensive process steps with great savings potential.
In order to increase this potential and offer denim with minimum environmental impact in our collections, we use the "Environmental Impact Measurement" (EIM) scoring method of the Spanish technology company Jeanologia®. By using innovative processes such as laser technology, ozone or "e-flow", we can increase occupational safety and, depending on the product, reduce water and chemical use by up to 80 percent.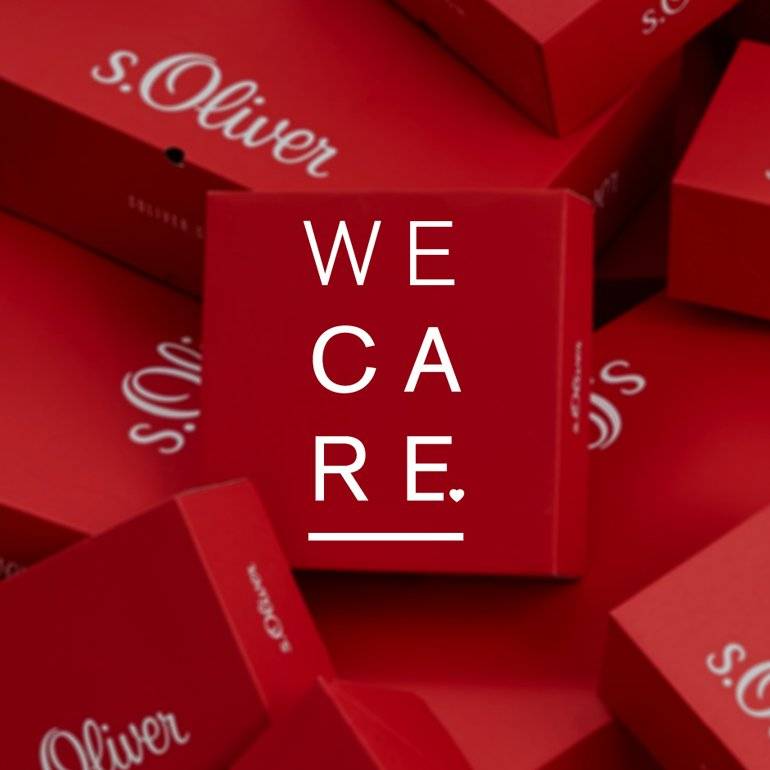 Better together
Avoid returning your products -
protect the climate
Many of our products are already shipped climate neutrally with the emissions offset by investments in environmental protection projects. But together we can achieve even more.
What can you do? Use our online advisor. Alongside a size guide that helps you take your measurements, we also have an interactive size advisor to guarantee you order the perfect size.
WE CARE
People | Planet | Future
Find out more about our commitment to social standards, managing restricted substances, animal welfare, sustainable raw materials, recycling, environmental protection and resource efficiency.